Himeji Castle: Amazing History and Tips on How to Enjoy Your Visit
2022.12.19.Mon
History
Himeji Castle: Amazing History and Tips on How to Enjoy Your Visit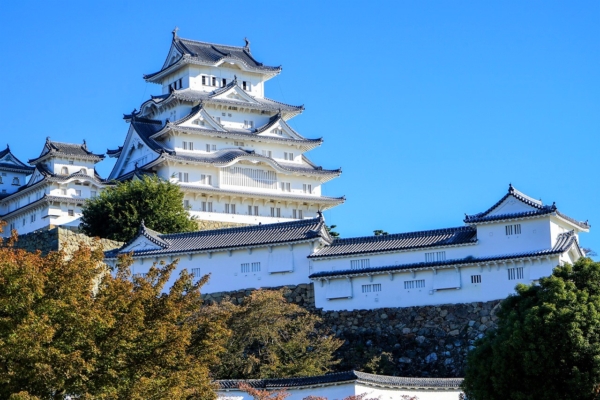 Himeji Castle is one of Japan's largest castles. A registered UNESCO World Heritage Site and a National Treasure of Japan located in Himeji City, this castle is full of stories of feudal Japan. Learn about the highlights of the "White Heron Castle" and how to best take advantage of your visit here.
Himeji Castle: A Must-Visit Destination in Japan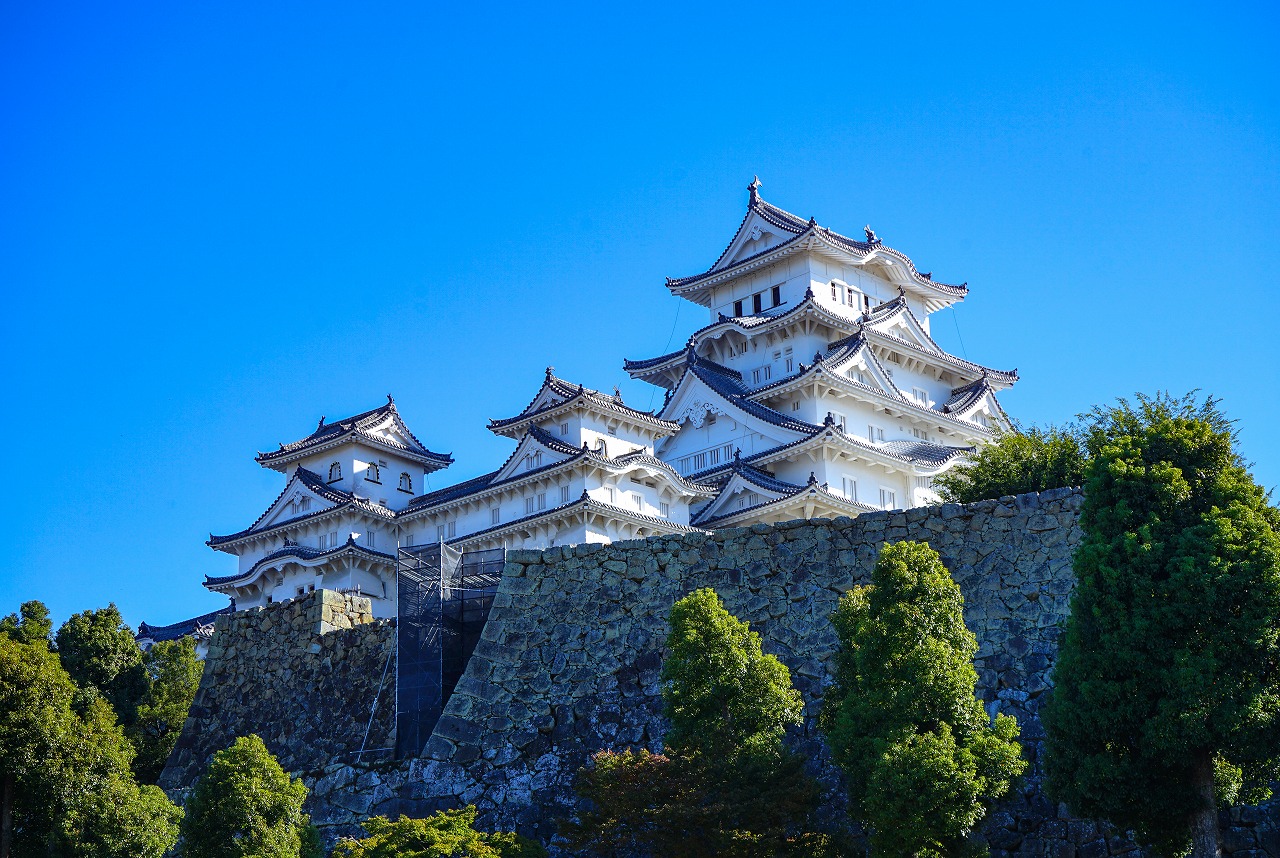 Himeji Castle is one of Japan's most famous castles and spectacularly represents the pinnacle of Japanese castle architecture and technology. Known also as the "White Heron Castle," for its resemblance to the majestic bird spreading its wings, this castle is a designated UNESCO World Heritage Site and a National Treasure of Japan.
Himeji Castle will amaze all who visit with its pearly white appearance, winding pathways, and detailed interior; in addition to its beauty, Himeji holds significant history and stories of the people who lived here throughout the centuries.
This article introduces this impressive castle and gives a preview of its highlights, as well as tips on how to best enjoy your visit to Himeji Castle.
The History of Himeji Castle
The Himeji Castle we know today was built and overseen by Ikeda Terumasa (1565 – 1613), a feudal lord (daimyo) who extended the castle grounds. This ambitious undertaking started in 1601 and ended around 1609, and transformed the castle, such as adding stories to the main keep. This made Himeji Castle it into an impenetrable fortress with revolutionary warfare and defense technology of the time, built to withstand any enemy.
The beginnings of Himeji Castle span long before this, with daimyo Akamatsu Norimura, who around 1333, built a temporary fort where Himeji Castle stands today, strategically on top of Himeyama hill.
Himeji Castle was remarkably never besieged or heavily damaged. The structures that remain pristine today, such as the main keep (tenshukaku) and the Western Bailey (nishi no maru), convey important clues on life in feudal Japan from their architectural detail. Over the centuries those who controlled Himeji Castle changed and include Japanese history-makers like those belonging to the Tokugawa clan. The details of the castle lords remain on the castle today; one place you can spot this is on the roof tiles (see above picture).
Starting in the Meiji Restoration (1868 to 1889), Himeji's military and political role came to a close, but the castle was saved for preservation. In 1993, Himeji Castle was officially recognized as a UNESCO World Heritage site for its exquisite remaining state.
Himeji Castle today continues to be a valuable cultural and historic asset in Japan, and is popular with domestic and international travelers. Special events are regularly held on the grounds, and the castle is also used for movie and television filming.
Lastly, despite never being heavily damaged, due to its age, the castle has undergone major restoration work during the 1930s and mid-2000s and undergoes regular maintenance–during your visit you may be able to spot some ongoing preservation work that is vital to keeping the castle in top shape.
Explore Himeji Castle with an English-Speaking Tour Guide!
While seeing the outside of Himeji Castle is breathtaking, you'll want to go inside the grounds and castle structures, as the castle is filled with so many details you can only see up close. There is signage in English and Japanese at points of interest throughout the castle grounds and inside the main keep and West Bailey. However, as there is so much to take in, in order to fully take advantage of your visit, having an English tour guide with you is highly suggested.
Himeji Castle offers tours to its visitors in English, provided by VEGA, the Volunteer Guide Association of Himeji Castle. These guides can be found near the castle entrance so please tell the staff when purchasing your admission ticket. A VEGA member will be happy to guide you if anyone is available on that day. Otherwise, if you wish to book a guide in advance, please make a reservation on I-Guide.
Your English-speaking guide will be happy to point out detailed parts of the castle, such as the fortified walls with loopholes used for castle defense, and the castle's rare and gorgeous decorated windows. Every corner of the castle and its grounds is filled with surprise; your guide will be with you every step of the way to explain the history and many points of interest the castle holds.
The tour guides are knowledgeable and happy to provide historical facts, information on architectural details, and lesser-known, surprising facts about the castle. The guide will provide you with more context and stories on the castle that you won't be able to hear anywhere else, so those seeking a deeper, more immersive experience at the castle are highly recommended to go on a tour. A guided tour takes about two hours; the length of the tour can be adapted according to your preferences. Be sure to give yourself plenty of time for the tour.
Tips for Visiting Himeji Castle
Himeji Castle's grounds are sprawling and filled with so much to see inside the structures–so it can be easy to miss certain parts of the castle. In order not to feel overwhelmed, it can help to focus on certain aspects during your visit, to help you get the most out of your time.
One recommendation for visitors is to venture to the main keep–getting to the top requires a journey up some steep stairs and dealing with low ceilings, but the climb is worth the muscle ache. The view from the top of the keep is breathtaking, and although the scenery today is drastically different than that of the Edo period (1603 to 1867), it is fascinating to imagine what soldiers and guards used to see when keeping watch. From the top, you will also be able to see Himeji Castle's roofing and ornamentation up close, like the shachihoko shown above.
Another must is visiting the Western Bailey (nishi no maru): the Western Bailey is just west of the main keep and included in the castle admission–however it requires walking up a different path after the entrance, so it can be easy to miss, especially for first-time visitors.
This part of the castle was used as exclusively female-only living quarters in peacetime and was home to the famous Princess Sen during the Edo period. There are exhibits inside with historic artifacts and replicas that hint at what life on the castle grounds was like during feudal Japan for these ladies.
Lastly, Himeji Castle is easy to photograph, and every angle of the castle is beautiful–but there are a couple of recommended angles and spots for photography. For example, the Western Bailey is an excellent place to capture the perfect angle of the castle.
Another suggested photography point is from the Bizen Maru Bailey, right in front of the pine trees, which will allow you to capture the castle with some greenery. Himeji Castle is gorgeous no matter when you visit, so be sure to bring a camera!
Himeji Castle's Surrounding Areas
Himeji Castle's original grounds and its circular moats used to extend to present-day JR Himeji Station.
Today this area contains a few big, main streets with lots of shopping: Otemae Dori, which leads central from Himeji Station to the castle, and Miyuki Dori and Omizo Dori, two roofed shopping streets that run parallel to Otemae Dori. These three main streets are filled with charming shops, local eateries, and fun izakaya that are perfect for spending an afternoon or evening exploring after your visit to the castle.
Right nearby the castle is a handful of other attractions, such as Koko-en, a traditional Japanese garden built on the historic grounds where samurai once resided, and Himeji City Zoo. The Himeji City Museum of Art is also nearby. There is also a group of shops selling snacks and souvenirs right across the street from the castle, ideal for shoppers looking to pick up a memento.
How to Get to Himeji Castle
Himeji Castle is easy to access; it is about a 15 to 20-minute walk or a quick bus ride from Himeji Station, and the station is well-connected via Shinkansen and train lines.
For those riding the Shinkansen from Kyoto, take the train from Kyoto Station to Himeji Station for 40 minutes. From Osaka, board the Shinkansen from Shin Osaka Station to Himeji Station; the ride is just around 30 minutes. However, be sure to check that the Shinkansen you are taking stops at Himeji Station as this depends on the train schedule and time.
If you are not taking the Shinkansen, it is recommended to take the JR Special Rapid Service train, which will arrive at Himeji Station in about one hour from Osaka, and around one and a half hours from Kyoto.
Experience the Magic of Himeji Castle!
Himeji Castle is a castle that showcases the peak of Japanese castle technology and innovation, from its pearly white walls to its winding, maze-like pathways, and detailed architecture. The White Heron Castle mesmerizes all who visit, whether it is their first time or their tenth.
Himeji Castle also regularly holds special events and exhibits throughout the year, such as nighttime cherry blossom light-ups in the spring and a moon festival event in the early fall, so any time is a great time to experience the magic of this special castle.
Himeji Castle celebrates 30 years since its registration as a World Heritage site in 2023. Special anniversary events are being held this year, including the public opening of areas that are usually closed to visitors. Do visit the castle on this occasion!
*The information presented in this article is based on the time it was written. Note that there may be changes in the merchandise, services, and prices that have occurred after this article was published. Please contact the facility or facilities in this article directly before visiting.
More Trip Ideas & Itineraries