From Wagyu Beef to Local Cuisine! 5 Himeji Dishes and Restaurants
2022.12.15.Thu
Food
From Wagyu Beef to Local Cuisine! 5 Himeji Dishes and Restaurants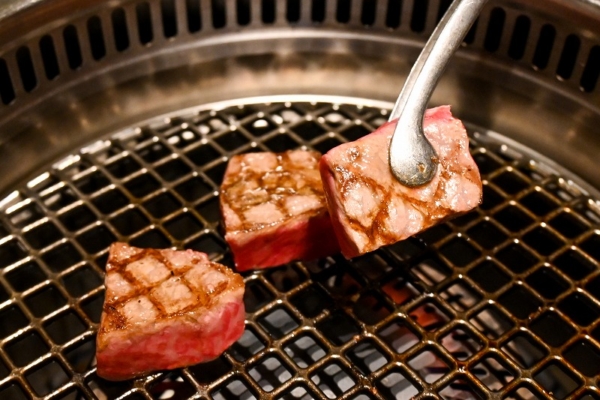 Himeji City, accessible from Osaka and Kobe, is packed with food you can't sample anywhere else—from Himeji beef to oden! This article introduces five local dishes you'll want to try when visiting Himeji and the restaurants that serve them.
Himeji's Local Food: Taste the Bounty of Land and Sea
Himeji, a city in Hyogo Prefecture is a transportation hub that connected Osaka, Kobe, and Hiroshima in central Japan and Tottori and Shimane in the San'in region for hundreds of years. This resulted in various regional food cultures being introduced to the city.
The mountains to the north and the sprawling waters of the Seto Inland Sea to the south of Himeji make it possible for the city to procure an abundance of fresh ingredients from the land and sea. Under these circumstances, a melting pot of food cultures has taken form in Himeji, ranging from high-end delicacies to working-class cuisines.
This article introduces five unique dishes that Himeji has to offer and well-known restaurants where you can try them.
1. Almond Toast at Café de Muche
What is Almond Toast?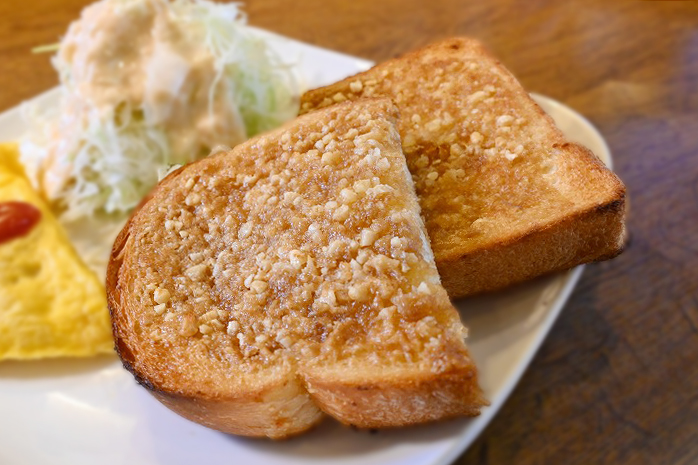 Many coffee shops and cafes in Japan offer a breakfast service in the mornings. During this service, guests are served drinks, toast, egg dishes, and other breakfast foods at much lower prices.
There are several cafes offering this breakfast service in Himeji, but almond toast—a sandwich with a generous spread of almond butter—is a staple on breakfast menus.
Café de Muche: The First Almond Butter? Try Their Popular Breakfast Service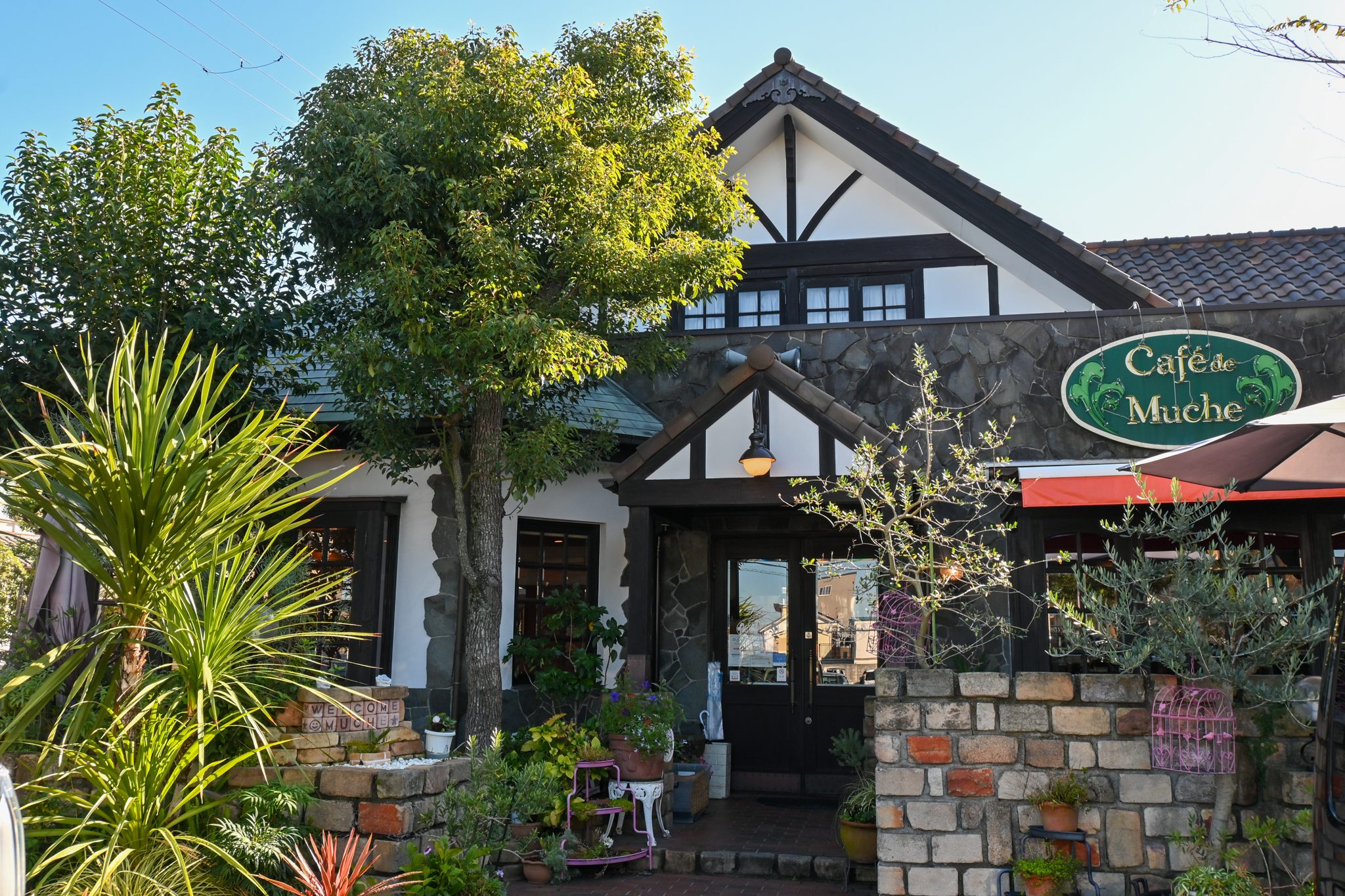 Café de Muche, established in 1987, is said to be the first in Japan to craft almond butter. There are three locations in the city, but the location we visited is a five-minute drive from JR Himeji Station.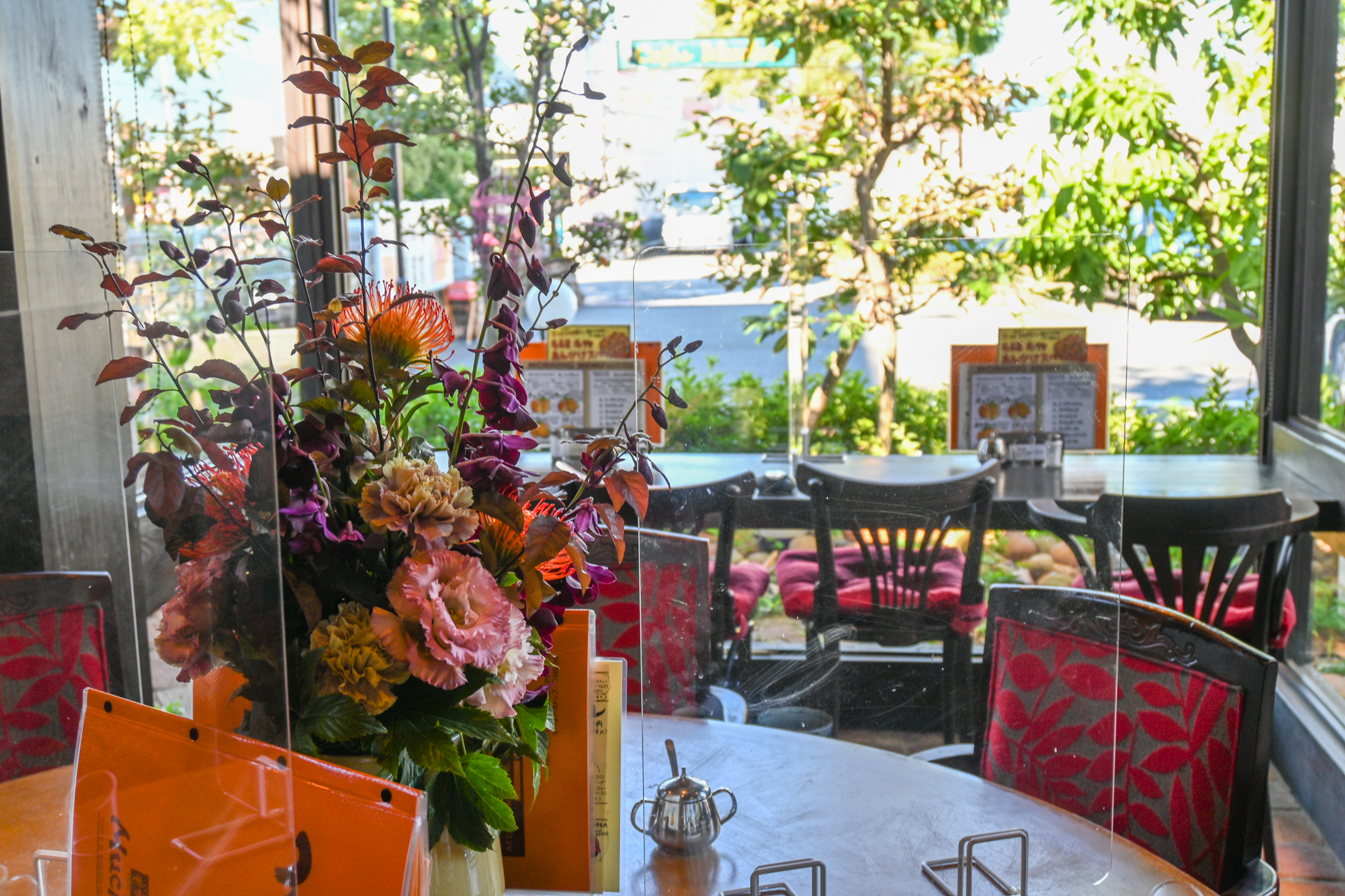 The cafe plays classical music in the background, which creates a peaceful ambiance. It is also a non-smoking eatery, so it's a reassuring choice for those who don't smoke.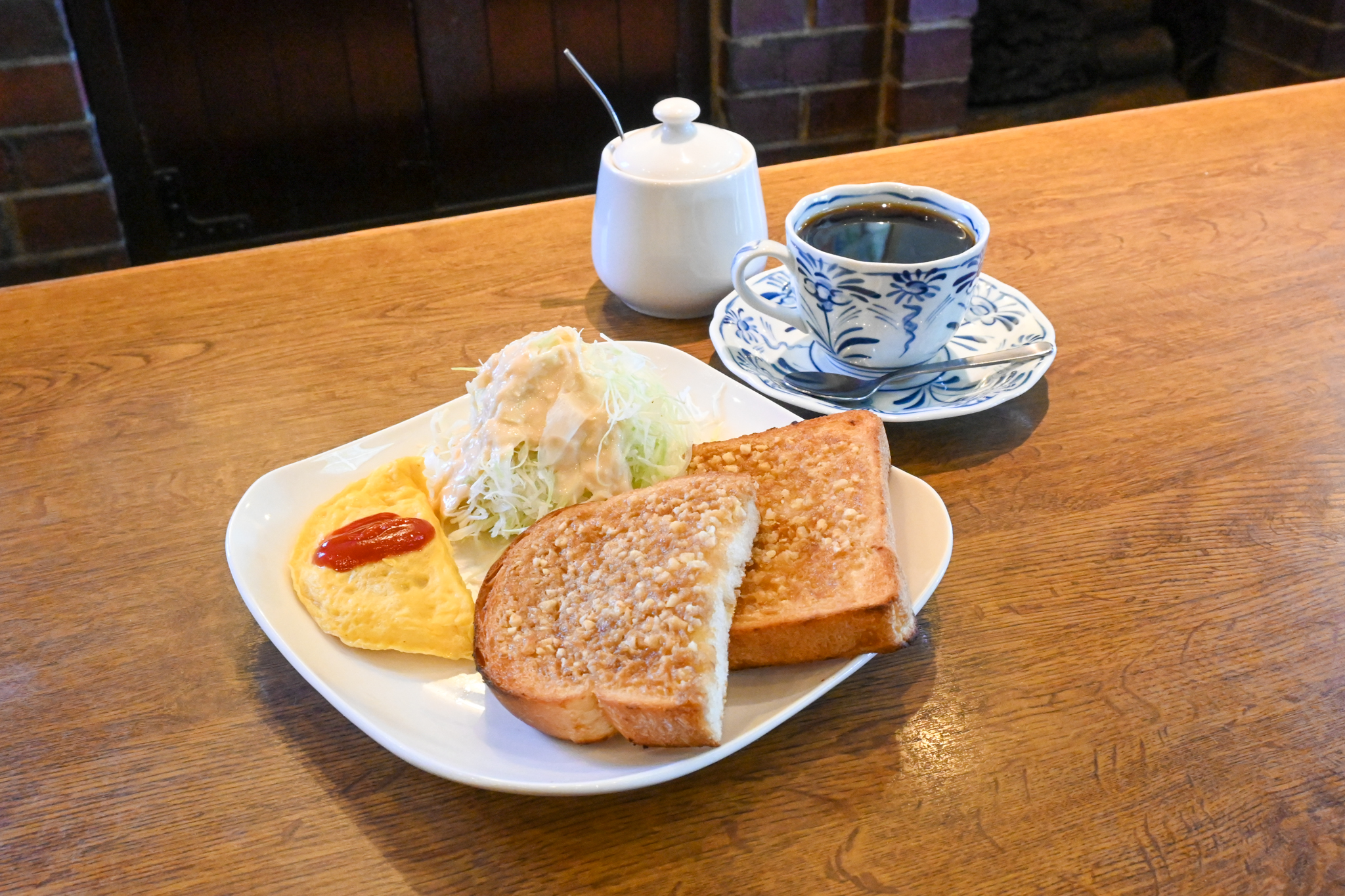 Order a coffee for 500 yen during breakfast, which operates from 7:00 to 11:00. It comes with almond toast, an egg dish (choice between an omelet or boiled egg), and a salad. The almond toast can be ordered at any time of the day.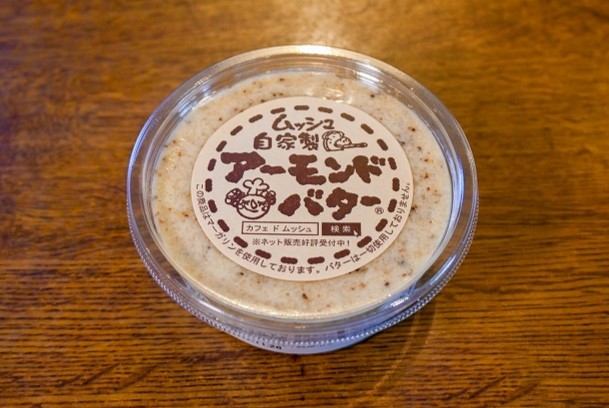 Café de Muche's almond butter is a mixture of almond flour with generous amounts of diced almonds. It has a fantastic flavor that is subtle in sweetness and aromatic. You can also purchase the almond butter at the cafe to take home with you.
Additionally, Café de Muche offers seven different menu offerings during their breakfast service. This includes sandwiches, hot dogs, and more!
2. Satisfy Yourself with Top Quality Himeji Beef at Yakiniku Azumi
What is Himeji Beef?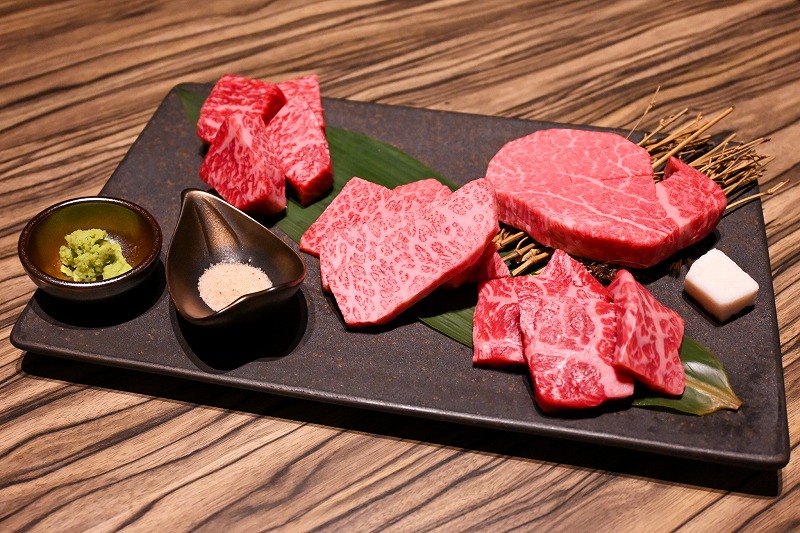 Himeji beef is a title granted only to a select few Japanese Black cattle raised in the Nishi-Harima area near Himeji that have passed strict qualifications.
Himeji beef is carefully raised in a mild climate and nature-rich environment. This ensures that the meat is tender and packed with umami. The marbled meat has none of the greasiness known for causing upset stomachs.
Yakiniku Azumi: In Business for 50 Years by an Established Butcher
Himeji beef does not have a high volume of distribution due to its strict requirements for certification. Yakiniku Azumi is one of the few restaurants where you can taste this premium ingredient.
Azumi Meat Shop, a butcher shop with 50 years of history in Himeji, opened a restaurant specializing in yakiniku (grilled meat) in 2015. The property's first floor is the butcher shop, while the second floor houses the yakiniku restaurant.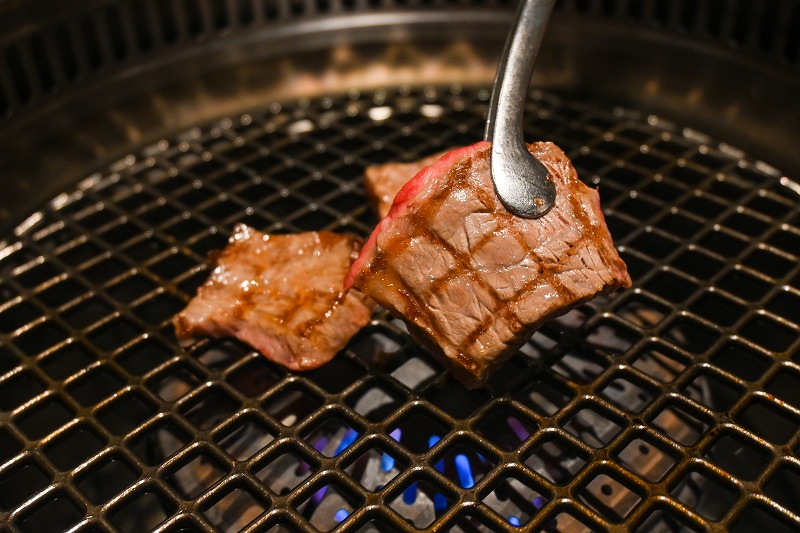 The restaurant capitalizes on the butcher shop's forte and serves beef procured from reliable suppliers. This is why the flavor and quality are outstanding!
The restaurant mainly serves Himeji beef but occasionally offers different wagyu beef throughout the week. Please confirm with the restaurant beforehand if you're interested.
The Four-Piece Assortment Beef Tenderloin (9,800 yen) is a combination platter of chateaubriand, a high-quality center cut of tenderloin, and the manager's recommended cuts of the day.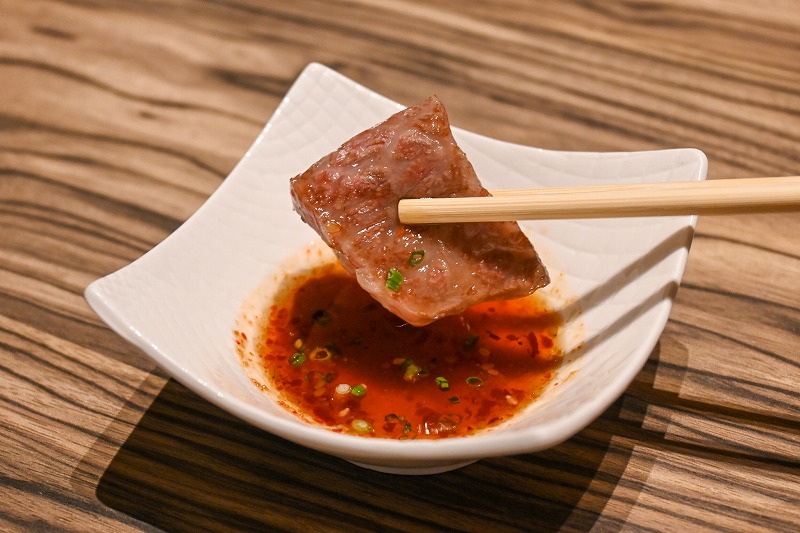 Make sure to try the meat with the accompanying sauce. The sauce is from a recipe passed down by a yakiniku restaurant that has since permanently closed. Locals loved it for many years. It has a refreshing and exquisite taste that enhances the meat's flavor.
3. Head to Himeji Oden and Kushikatsu Shop for Himeji Oden
What is Himeji Oden?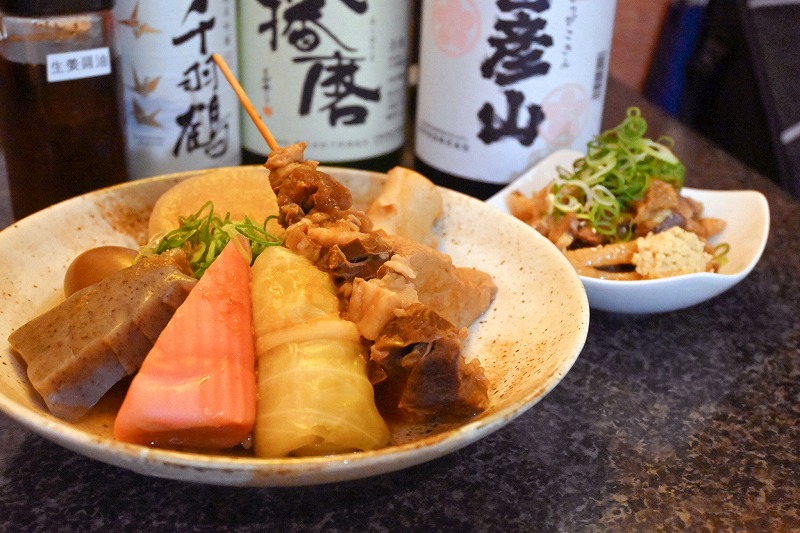 Oden, a dish with daikon radish and konjac simmered in dashi stock, is a typical home-cooked meal eaten across Japan. While it is typically garnished with Japanese yellow mustard, it is consumed with ginger soy sauce in Himeji.
This condiment originated from the flourishing soy sauce and ginger production in the Himeji area for numerous years. This unique method of eating oden in Himeji is even a registered trademark called "Himeji Oden."
Himeji Oden and Kushikatsu Shop: Immerse Yourself in Izakaya Vibes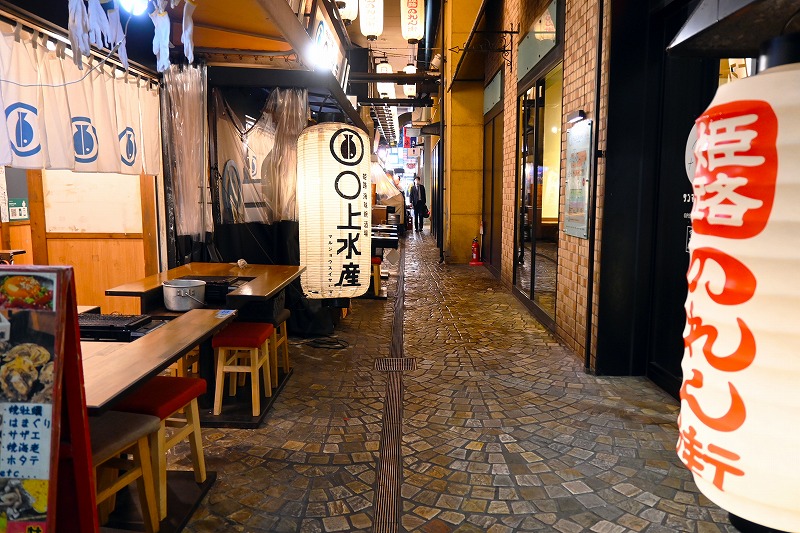 Himeji Oden and Kushikatsu Shop is where you can try Himeji oden. The shop is an izakaya (Japanese-style pub) situated in the corner of Himeji Noren Street, a popular food spot near Himeji Station.
The Himeji oden is served with a splash of strong ginger soy sauce and a simple, light dashi stock. This creates a great balance of flavors when eaten together.
The ginger soy sauce is made by adding mirin (sweet rice wine) and white dashi stock. You can keep eating this flavor without getting bored.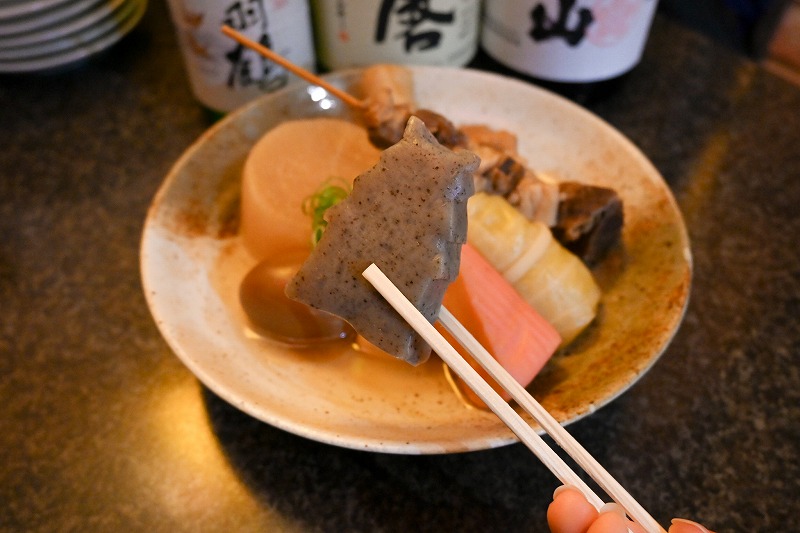 By the way, you need authorization from the Himeji Oden Association to use "Himeji Oden" in a shop's name. The fact their konjac is shaped like Himeji Castle is another sign of their official approval.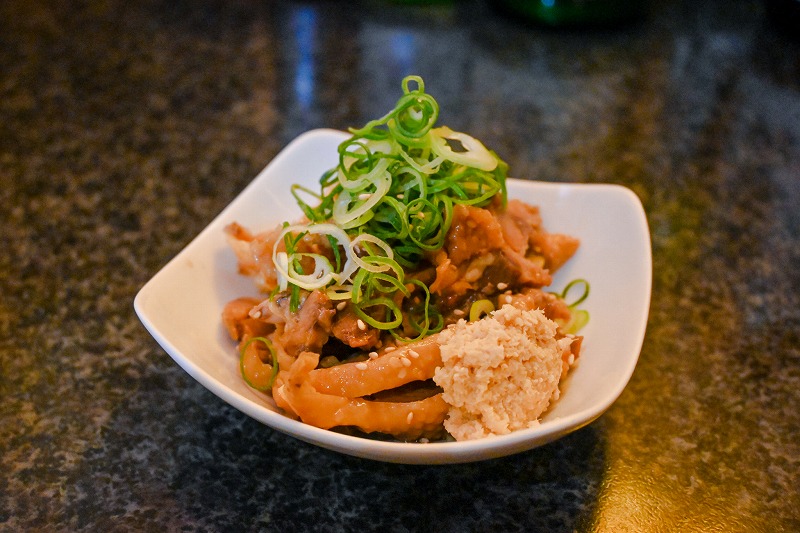 Want to try another dish in addition to oden? Then we recommend hinepon, a popular menu item that is a local specialty. The delicious flavor from the mature chicken (a hen that no longer produces eggs) becomes more flavorful as you chew. Coupled with the acidity of ponzu sauce, this chicken dish is a tasty combination.
4. Savor Anago for Lunch at Hiiragi
What is Himeji Anago?
Himeji faces the Harima Sea and is a treasure trove of fresh, delicious seafood. The location is especially suitable for anago (saltwater eel) thanks to the abundance of shallow beaches and sandy coasts. In the past, many successful catches were made here.
However, environmental changes coupled with declining fish in recent years have led anago to become a rare premium ingredient.
Hiiragi: Enhancing Flavor with a Secret Sauce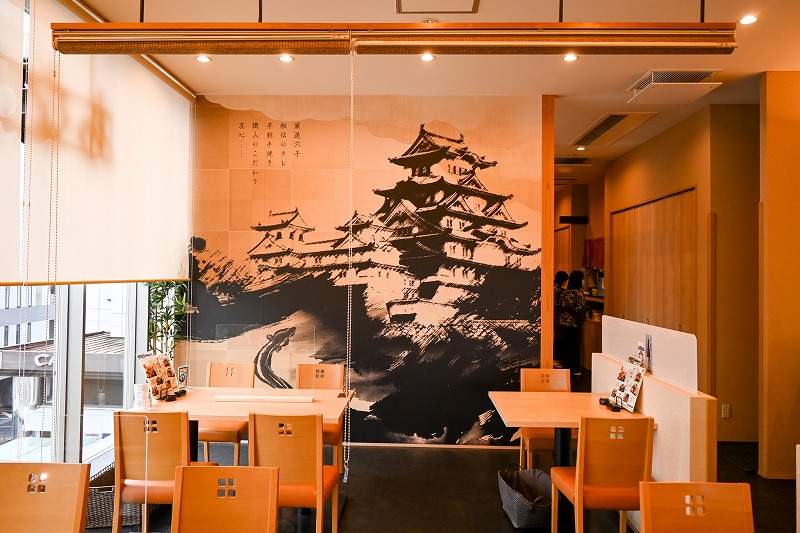 Hiiragi is a restaurant specializing in anago dishes with various cooking methods. There are two locations in Himeji.
The Q-WELL Himeji location is easily accessible from Himeji Station and only a minute away on foot!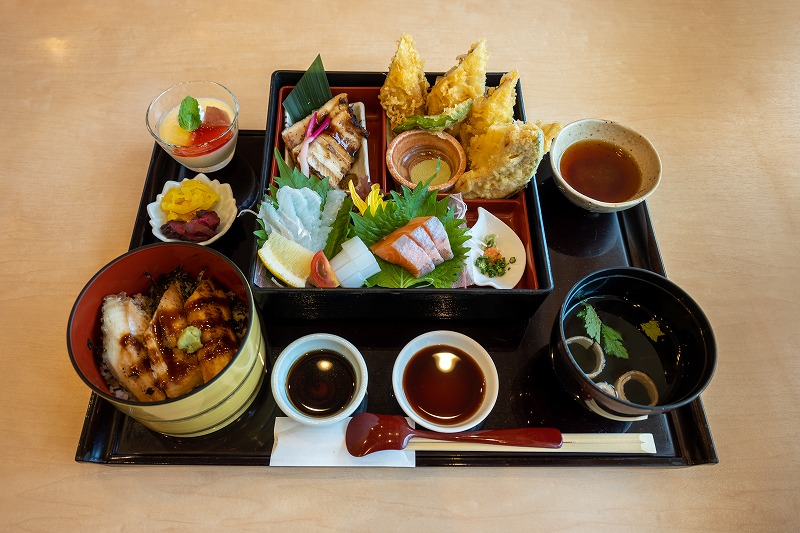 Our recommendation is the lunch-exclusive Hiiragi Set Meal (2,530 yen). The set comes with an anago rice bowl, grilled anago, anago tempura, and anago sashimi.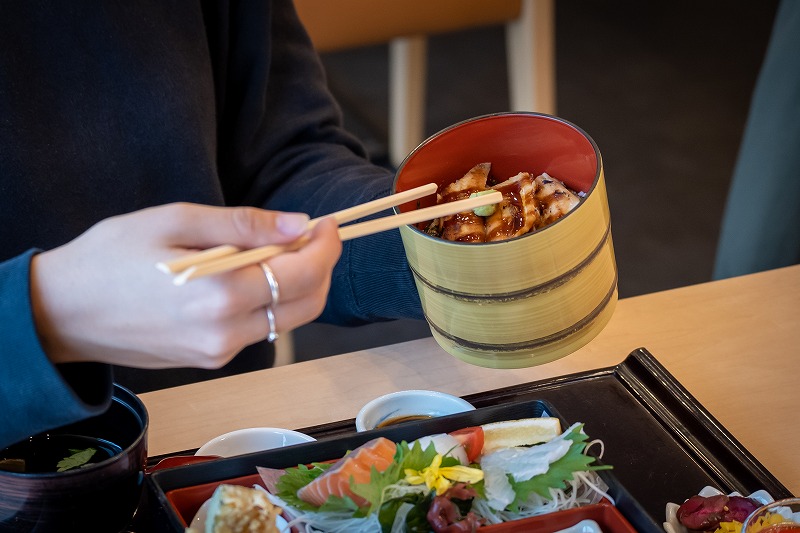 Diners can enjoy thick, fluffy anago prepared by skilled chefs with care.
In particular, the grilled anago is coated in a sweet sauce that makes its flavor shine. This sauce contains a secret flavor developed by Hiiragi after continuous research.
The anago sashimi is another unique dish that is a specialty at this restaurant. Hiiragi not only procures anago from Himeji but across Japan, so customers can enjoy it year-round.
There are several restaurants in Himeji serving this delectable ingredient. Iccyoura is the place to go for anago dishes paired with local alcohol. Meanwhile, Rikimaru serves pressed sushi with grilled anago and sushi made with whole simmered anago!
*Hiiragi's business hours are 11:00 to 14:00 (last order at 13:30) and 17:00 to 22:00 (last order at 21:00). Please note that the restaurant is closed between 14:00 to 17:00.
5. Eat Jokamachi-Dog at Yamasa Kamaboko Otemae
What is a Jokamachi-Dog?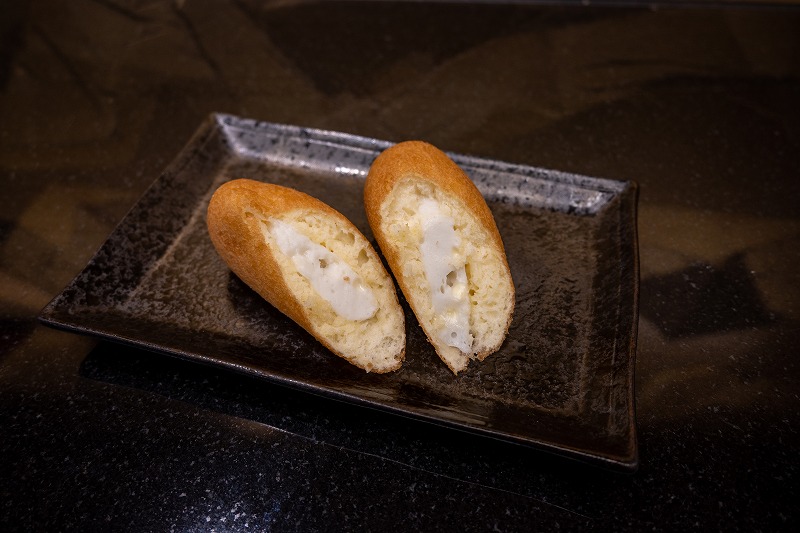 The jokamachi-dog (literally "castle town corn dog") resembles an American corn dog, but it's a unique take on this dish! It contains cheese kamaboko (fishcake) on the inside instead of a sausage.
Cheese kamaboko is a modern twist on kamaboko. However, instead of ground fish paste, it is mixed with cheese.
The cornmeal batter is fluffy with a faint sweetness that pairs well with the salty cheese kamaboko! This delicious flavor will no doubt have you hooked!
Yamasa Kamaboko Otemae: Over 100 Years of Business! Buy a Jokamachi-Dog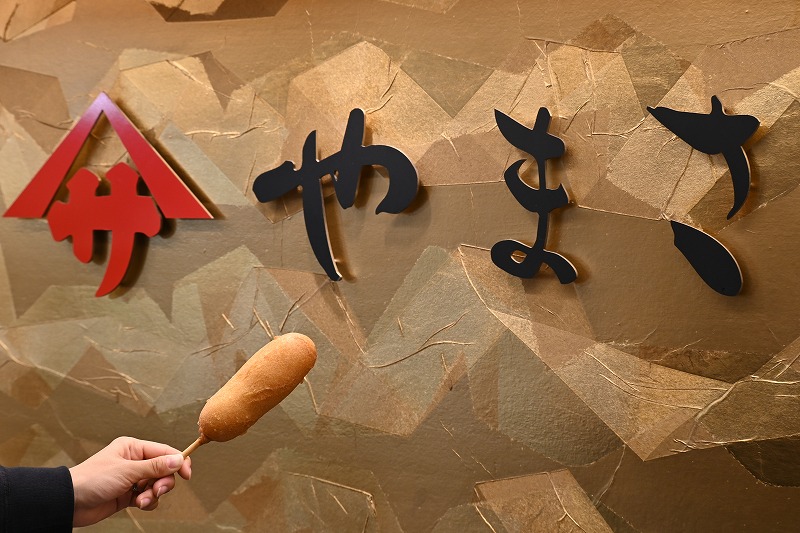 Yamasa Kamaboko Co., Ltd., a kamaboko company in Himeji operating for over 100 years, is where this jokamachi-dog (150 yen) is sold.
The jokamachi-dog was developed and sold as a new product since Yamasa Kamaboko Otemae, the direct sales store, opened in 2006. Since then, it has become a local food loved by locals and visitors alike.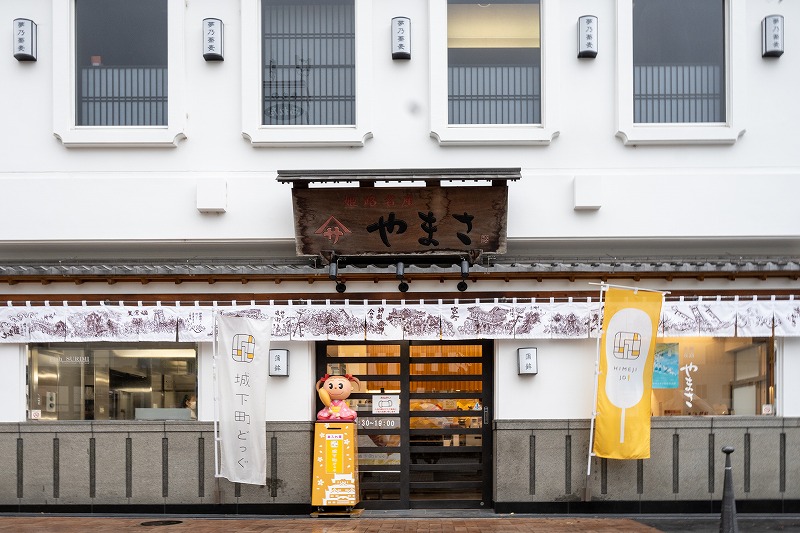 Yamasa Kamaboko Otemae is located on Otemae Street, which runs from Himeji Station to Himeji Castle. The store's exterior is decorated with white plaster walls and a tiled roof, traditional aspects of Japanese architecture that draw attention from passersby and fitting for a castle town.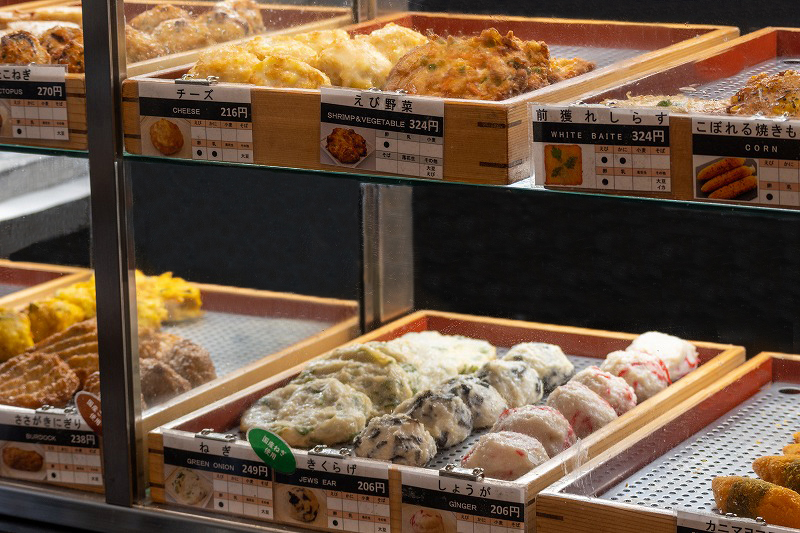 Above is a photo of deep-fried kamaboko, fresh out of the fryer, lining the store's showcase.
Great Access to Himeji Castle! Let's Feast on Local Food
What did you think about Himeji's unique local specialties?
This time, we handpicked a selection of restaurants near Himeji Castle and Himeji Station. Give Himeji's local foods a try for yourself, and enjoy your Himeji travels to the fullest!
*The information presented in this article is based on the time it was written. Note that there may be changes in the merchandise, services, and prices that have occurred after this article was published. Please contact the facility or facilities in this article directly before visiting.
More Trip Ideas & Itineraries