Himeji Souvenirs : Lovely Handicraft Items, Refined Sweets, and More!
2023.01.17.Tue
Food
Himeji Souvenirs : Lovely Handicraft Items, Refined Sweets, and More!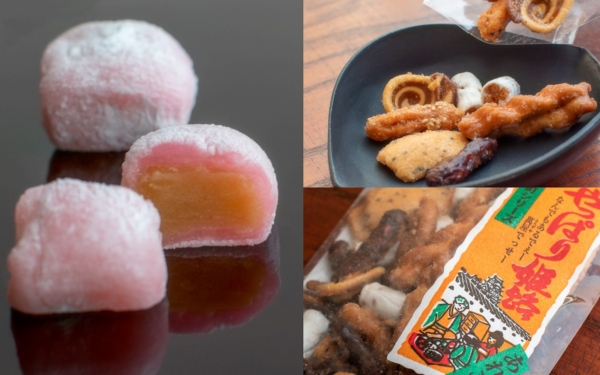 Himeji, the famous castle town in western Japan, is famous for Japanese wagashi sweets, traditional handicrafts, world-renowned sake, and other one-of-a-kind souvenirs and mementos. Learn the most popular Himeji souvenirs and the shops where you can find them.
The castle town of Himeji is the ideal place to shop for all types of Japanese souvenirs, such as traditional crafts, unique local goods, Himeji sake, and flavorful treats and sweets. This article introduces six popular Himeji souvenirs and four spots where you can enjoy shopping for the perfect memento.
Recommended Himeji Souvenirs
Japanese Confectionery and Sake
Traditional Handicrafts
Recommended Himeji Souvenir Shops
Local Himeji Snacks to Share with Friends and Family
Traditional Japanese sweets, sake, and snacks are also plentiful in Himeji. Himeji will be able to satisfy your cravings, whether you are looking for a treat to bring back home to friends, or just hungry for something to try back at your lodging. Below are a few suggested selections, but there are so many more delicious delicacies in addition to these.
Excellent With Green Tea! Traditional Japanese Sweets: Tama Tsubaki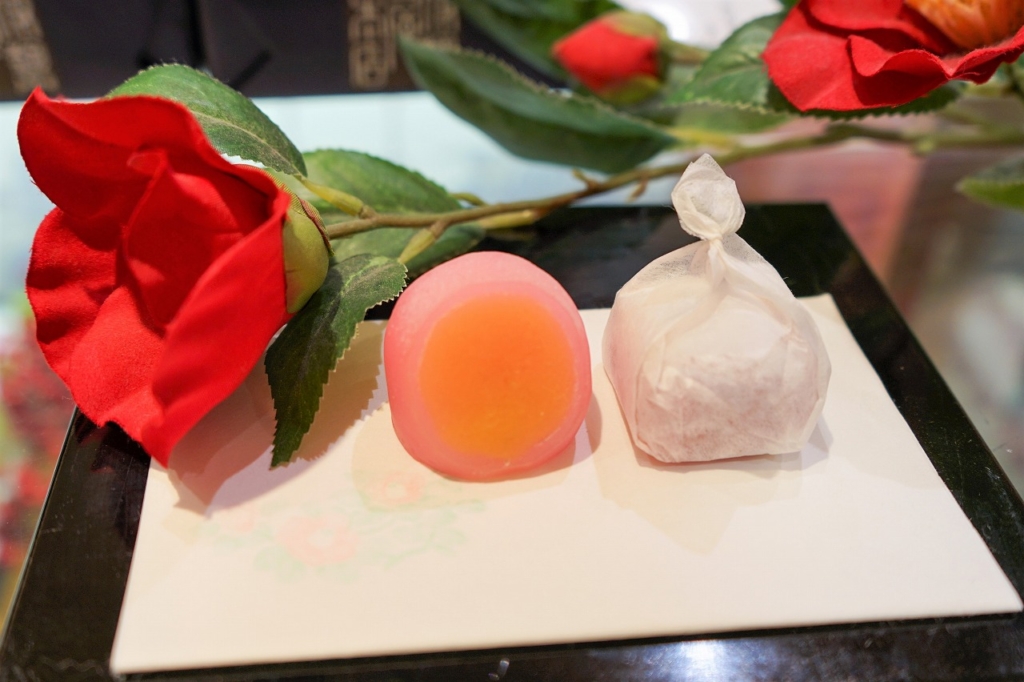 Tama Tsubaki is a lovely traditional confectionery that resembles a camellia flower, called tsubaki in Japanese. Originally created in 1832 for the wedding celebration of Himeji's lord, this treat has become one of Himeji's most famous traditional sweets.
The Tama Tsubaki is made with a moist yellow azuki bean paste wrapped in gyuhi (sweet glutinous rice dough, *1). This results in a delicious treat that has an elegant sweetness and fragrance. The Tama Tsubaki sweets pair very well with green tea!
These confections come individually wrapped, and are ideal souvenirs to buy for yourself or to share with friends and family.
When it comes to traditional wagashi sweets, Himeji boasts plenty of varieties! You can find them at the souvenir shops near Himeji Station or Himeji Castle.
*1 Gyuhi is a type of glutinous rice dough obtained by mixing mochi rice flour with glucose syrup and sugar. It is often used as the external layer of Japanese wagashi confections.
Himeji's Excellent Sake Varieties
Himeji and the surrounding Harima area boast amazing breweries that have been making Japanese sake since ancient times. This area is known as the "home of Japanese sake." The Harima region is a famous production area for Yamada-Nishiki, which is the highest quality brewing rice.
The Japanese sake made in Harima has obtained the GI certification from the Ministry of Agriculture, Forestry and Fisheries, which is meant to protect the products made with the utmost consideration for local ingredients. The products labeled GI Harima fulfill strict quality criteria, including the fact that they only use Yamada-Nishiki rice grown in Hyogo Prefecture. With exceptional taste and fragrance, these are truly excellent Japanese sake products.
If we speak only of sake breweries located in Himeji City, there are eight major companies. Each of them produces award-winning Japanese sake brands with particular care for the rice and water used in the brewing process.
Himeji's sake brands can be found at local souvenir shops so do check them out.
Himeji Sake Breweries and Their Representative Sake Brands
Tanaka Sake Brewery: Shirasagi no Shiro, Meito Masamune
Honda Shoten: Tatsuriki, Kome no Sasayaki
Nadagiku Sake Brewery: Nadagiku
Tsubosaka Sake Brewery: Seppikosan
Yaegaki Sake Brewery: Yaegaki, Mu
Meijo Sake Brewery: Meijo Kakushizake, Kanbee
Shimomura Shuzoten: Okuharima
Kanzaki Sake Brewery: Ryuo no Mai, Manai no Tsuru
If you're looking for a savory snack to pair with your sake, pick up some Himeji kamaboko fish cake. Yamasa and Hatoya are recommended local brands of Himeji kamaboko; the fish cake is usually sold in a solid block or pre-cut. Kamaboko tastes delicious with local sake.
In Himeji, you can also enjoy kamaboko factory visits, as well as take part in workshops to make kamaboko or chikuwa fish paste products.
Crunchy and Sweet Karinto Crackers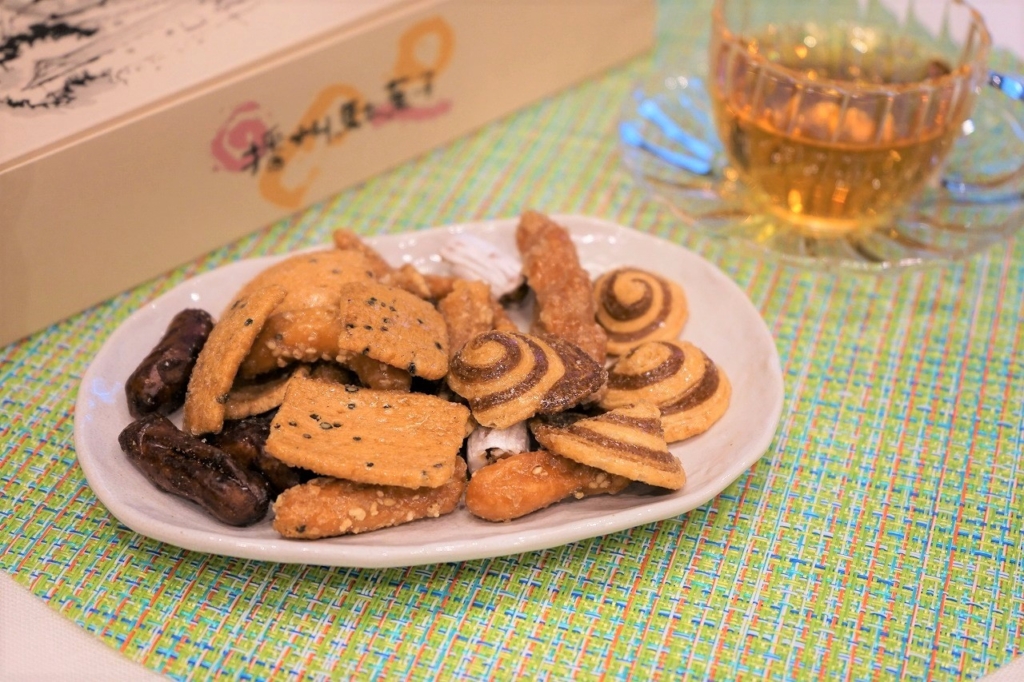 For treats that have a long shelf life and can be taken home as gifts, Himeji also carries fried flour snacks sweetened with brown sugar; these simple but delicious treats are called karinto in Japanese.
In particular, "Oshiro Ichiban" is a nice choice as it contains an assortment of flavors, shapes, and textures of karinto.
The karinto sweets made in Himeji have a crunchy and satisfying texture that is addictively delicious; try one and it may become your new favorite snack! Karinto goes well with tea, coffee, or any favorite beverage you have.
Perfect Mementos from Your Trip! Himeji's Local Products
Himeji is a center for craftsmanship; in particular, Himeji leather goods, Myochin wind chimes, Himeyama dolls and spinning tops, and smoked roof tiles have a long tradition and are favorites with those visiting the castle town. You will be able to cherish these locally-made souvenirs for years to come, so be on the lookout for one of these handicrafts when shopping.
Himeji Leather Goods Designed with Skill and Passion
Himeji is famous in Japan for its leather goods production and excellent craftsmanship. Himeji leather is high quality, ages well, and is long-lasting, making it a favorite souvenir choice for many visitors.
Leather tanned to a white hue, with dye or painted design on top, is also fairly characteristic in Himeji leathercraft. Himeji leather goods are sold in all sorts of varieties, such as wallets, coin purses, and business card cases, and feature an assortment of charming designs.
For the Children and the Young at Heart! Himeji Himeyama Dolls and Himeji Spinning Tops
In addition to leatherworks, Himeji also boasts a rich history of woodcraft. In particular, wooden Himeyama dolls and Himeji koma spinning tops are wonderful choices for souvenirs to take home. The dolls are small, can fit into your palm, and often feature children or animals of the zodiac designed with the cutest details.
Koma spinning tops are available in all sorts of styles and can be used to play or for a beautiful display. You can feel the warmth of the wood and the care and passion put into the craftsmanship with Himeji's woodcrafts.
The adorable Shiromaru Hime, a mascot character of Himeji Castle, is another fun souvenir for children and lovers of Japan's cute kawaii culture. Shiromaru Hime can be found in stationery, T-shirts, and all types of accessories at souvenir shops in Himeji.
Take the Sounds of Japan Home with You! Myochin Wind Chimes
Myochin wind chimes are a traditional type of wind chime that Himeji is known for. The chimes are unique as they use specially-shaped iron chopsticks, originally used in tea ceremonies for charcoal. The Myochin family, who makes these wind chimes, were originally armor and helmet makers back in the Heian period (794-1185) and have carried on a legacy of centuries of ironworking and craftsmanship ever since.
Myochin chimes have a clear but subtle sound when they are blown and make music in the wind. The chime is different compared to typical Japanese furin wind chimes, but listening to the calming flutter of sound will, of course, bring back a stream of memories of the beautiful sights of Himeji from your trip.
Where to Buy Himeji Souvenirs
Himeji is filled with many shopping spots so it can be challenging to decide where to go. In particular, the three souvenir shops below carry a wide selection of souvenirs and trinkets that are ideal for picking up something special to remember Himeji by.
Himeji Castle Souvenir Shop: Popular for Its Wide Variety of Products
Right by the Himeji Castle ticket office, there is a souvenir shop operated by the Himeji Visitors & Convention Bureau. This shop has an excellent selection of local products from Himeji, including traditional wagashi sweets, souvenirs related to Himeji Castle, local sake varieties, leather goods, figurines, commemorative medals, and more. You'll surely be able to find an item here to remember your Himeji trip by!
Takaragura: A Treasure Trove Right by Himeji Castle!
Takaragura is right across the front Otemon entrance to the Himeji Castle grounds, making it a convenient stop after you've done sightseeing. There are many food souvenirs, sweets, and local sake to choose from, so you will have no problem finding something of interest.
In particular, the shop carries a large selection of GI Harima-certified sake, which is made with the finest grade of sake brewing rice, Yamada-Nishiki, and local water. Enjoy the local brews at your hotel after exploring the castle, or take some home with you to savor after your travels in Japan.
Bansankan: A Souvenir Shop Near Himeji Station!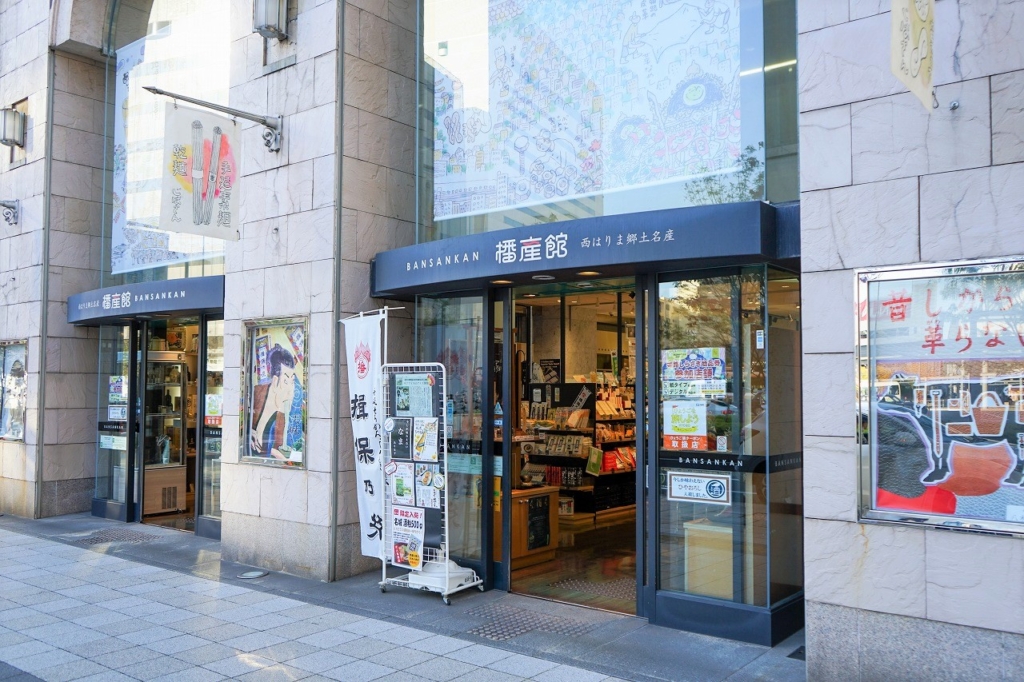 For handicrafts and local cooking ingredients, look no further than Bansankan, a souvenir shop located on the south side of JR Himeji Station.
Bansankan carries a huge mix of popular and lesser-known products from Himeji and the nearby Nishi Harima region, from locally-produced food products like somen noodles and miso paste to accessories and leathercrafts. The shop also boasts an extensive GI Harima-certified sake selection.
Whether you are in pursuit of a present for a loved one or just a snack to enjoy at your hotel, Bansankan will have you covered and help you find the one-of-a-kind item you are searching for.
Piole Himeji Omiyagekan: Shop at Himeji Station Before Riding the Bullet Train
For those looking for convenience and a selection of souvenirs shareable with big groups, the Piole Himeji Omiyagekan is the stop you should make before riding the Shinkansen. Located inside the JR Himeji Station building just outside the central ticket gates, the souvenir floor here is compact but carries all the famous confectioneries and food brands of Himeji.
From traditional wagashi like Tama Tsubaki to savory fish cakes that pair well with sake, you will find all types of tasty Japanese treats here.
Many souvenirs are packaged individually but sold in larger boxes suitable for sharing with friends, however, many vendors will sell smaller portions as well if you want to savor them while you are traveling.
Savor and Remember Your Trip with Himeji Souvenirs
Shopping for souvenirs is one of the most enjoyable parts of traveling, and Himeji is a treasure trove of one-of-a-kind keepsakes and treats. Whether you are shopping for gifts for friends and family or searching for something for yourself, there will be something for everyone can enjoy from this famous castle town.
The information presented in this article is based on the time it was written. Note that there may be changes in the merchandise, services, and prices that have occurred after this article was published. Please contact the facility or facilities in this article directly before visiting.
More Trip Ideas & Itineraries