Himeji Castle, Hot Springs, and Great Food! 5 Excellent Hotels in Himeji
2022.12.18.Sun
General Sightseeing
Himeji Castle, Hot Springs, and Great Food! 5 Excellent Hotels in Himeji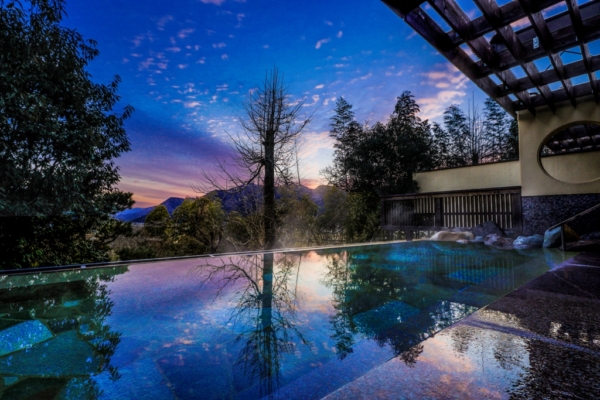 Himeji is a scenic city surrounded by land and sea. It is home to Himeji Castle–Japan's first registered World Heritage site–and easy to access from Osaka and Kobe. The city boasts several hotels with hot springs and delicious cuisine. We introduce five recommended places to stay in Himeji.
Himeji, a City with Great Access from Osaka and Kobe
Himeji, a city in Hyogo Prefecture, is a sightseeing destination known for Himeji Castle, the first World Heritage site to be registered in Japan. Its location also offers convenient access to areas such as Osaka, Kobe, Tottori, Shimane, and other prefectures in the San'in region.
There are several accommodations available in Himeji where you can enjoy hot springs and excellent local cuisine. In this article, we introduce five hotels that are close to Himeji Station and Himeji Castle.
1. SETRE Highland Villa Himeji: Gorgeous City and Seto Inland Sea Views!
SETRE Highland Villa Himeji is nestled in the forest of Mt. Hiromine. The Seto Inland Sea is visible in the distance. This hotel is a soothing accommodation designed based on the theme of relaxing the mind and soul while enriching all five senses.
A free self-service welcome drink bar is available for hotel guests in the lobby. You can enjoy a variety of snacks and drinks including alcoholic beverages, juice, black tea, coffee, and cookies.
In the evening, the hotel will surprise you with inventive meals crafted with seasonal and local ingredients. After your meal, we recommend enjoying the unobstructed night view of the Harima Plains as you soak in the scenic view baths.
You can refresh yourself at the hotel with a meditation space, library, and more. SETRE Highland Villa Himeji is a place you can leisurely spend the night and is the best choice for those who want to relieve their everyday stress.
Click here for the official reservation website (Japanese)
2. Yumenoi: A Traditional Hot Spring Inn with a Starry Sky View
Want to try food from various restaurants in Himeji, then relax in a hot spring in the evening? Then you will find Yumenoi, a hot spring inn, to be a perfect choice! This ryokan (traditional Japanese inn) is where you can enjoy private time to yourself at the highest quality.
There are a total of nine hot springs in the inn, giving guests the option to bathe in the hot spring of their choice. Guests can enjoy a diverse selection including an open-air bath with a view of the starry sky. There are also carbonated hot springs and medicinal springs for health-conscious guests.
For dinner, you can get a taste of Japan's extravagant kaiseki cuisine (traditional multi-course Japanese meal). After local ingredients are carefully selected from the Harima and Himeji areas, each course is made to fully bring out their delicious flavor.
They also have a special menu for children. Contact the inn beforehand and they will prepare a meal that caters to most food allergens. Yumenoi is the perfect inn for spending the night with that special someone!
Click here for the official reservation website
3. Hotel Monterey Himeji: Right Next to Himeji Station!
Hotel Monterey Himeji is a hotel directly connected to JR Himeji Station. Additionally, Himeji Castle–a World Heritage site–is only 15 minutes away on foot.
The Himeji Station area is home to several department stores despite having the ambiance of a castle town. Hotel Monterey Himeji is conveniently structured so you can enjoy shopping, sightseeing history and culture, and authentic cuisine all in one place.
Hotel Monterey Himeji has equipped each floor with solid security systems to provide visiting travelers with reassurance and safety on their trip.
There are nine different guestrooms. Himeji Castle can also be spotted from a portion of these guestrooms.
The interior is mainly designed in a Western style with perfectly firm mattresses and warm lights to help get rid of the fatigue from the day. This is a spot we recommend to those who want to stay at an accommodation with convenient and easy access.
Click here for the official reservation website
4. Hotel Nikko Himeji: A Hotel Near the Station Ideal for Sightseeing
Do you rarely travel around Japan? Are you perhaps lost on what hotel or lodging you should choose in Himeji?
If that is the case, Hotel Nikko Himeji, operated by a famous hotel chain in Japan, is definitely a wonderful option to consider!
Hotel Nikko Himeji is a minute on foot from the JR Himeji Station South Exit. It's in a fantastic location just a 20-minute walk to Himeji Castle. Not only is the location convenient due to being in the city center, but guests can get a complete view of Himeji's cityscape and Himeji Castle from a portion of the guestrooms on the upper floors.
The breakfast menu at SERENA, the hotel's buffet restaurant, utilizes ingredients locally produced for local consumption and offers an abundant variety of options in 40 different dishes.
Each morning, the egg dish of the day is prepared at the live cooking station, which is very popular with guests. Dine at the restaurant whether you're traveling as a couple, with friends, or with family.
Click here for the official reservation website
5. Hotel Clair Higasa: Modern Traditional Style Established Over 70 Years Ago
Hotel Clair Higasa is another hotel located in central Himeji with easy access to both Himeji Station and sightseeing spots such as Himeji Castle.
The hotel has been established over 70 years ago. A charming feature of the hotel is its wonderful hospitality filled with empathy that has been fostered over the course of its history.
The top floor is where a large scenic view bath is located. Here, you can get a taste of Himeji's charming night view while refreshing your travel-exhausted body.
Guestrooms are available in nine types including Western and Japanese-style rooms. One option is the Japanese Concept Room, which provides a charming blend of Japanese and Western styles. They also have other unique rooms themed after historical figures in Himeji and the castle town.
Click here for the official reservation website (Japanese)
Stay in the Lively City of Himeji with Easy Access to Western Japan
Himeji is a stop along the way to the San'in region (Tottori Prefecture, etc.) or San'yo region (Hiroshima Prefecture, etc.) from the Osaka area. It is also a city with an incredibly prominent place in Japanese history!
Stay at any of the five hotels mentioned above and experience a deeper appreciation for the charms of Himeji!
*The information presented in this article is based on the time it was written. Note that there may be changes in the merchandise, services, and prices that have occurred after this article was published. Please contact the facility or facilities in this article directly before visiting.
More Trip Ideas & Itineraries