Himeji Omotenashi(Welcome) Coupon
Other
Himeji Omotenashi(Welcome) Coupon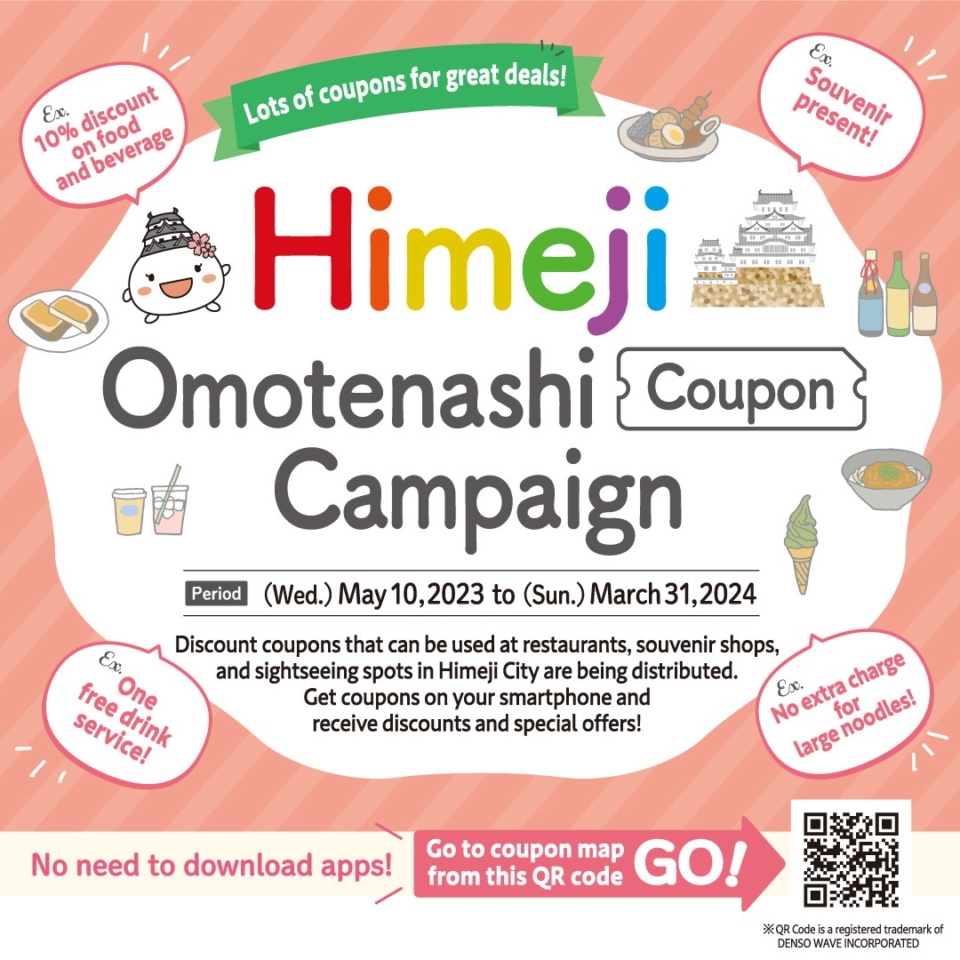 This coupon can be used by anyone at restaurants, activity centers, souvenir shops in Himeji City!
Select a store or facility from the map below and present the coupon to receive a discount, a gift, or other benefit.
Some 200 shops are included! Try visiting shops and locations you've never visited before.
Please use the map at the following link:
https://platinumaps.jp/maps/himeji-coupon
[Usage Period]
May 10, 2023 (Wednesday) – March 31, 2024 (Sunday)
[Devices on which the coupon can be used]
Smartphones
*On iPhone, please use Safari. On Android, please use Chrome.
*You can also view the site from a computer, but coupons can only be used from a smartphone.
[How to use the coupons]
Open the map in Safari on an iPhone, or in Chrome on an Android phone.
Select the location that interests you from the map, and you'll be able to see more information about that location.
Tap "See Coupon" and the coupon for that location will open.
*Some locations only have location information listed, without a coupon.
When you're ready to use the coupon, hit the OK button and show your screen to staff at the location.
*Some coupons can only be used once, so please check with the clerk before clicking the OK button.
[Other Notes]
・The number of times coupons can be used varies from store to store.
・Please note that store hours and holidays are subject to change without notice.
[For inquiries, please contact]
Himeji Convention & Visitors Bureau
68 Honmachi, Himeji-shi, Himeji 670-0012
TEL: +81-79-222-2285 FAX: +81-79-222-2410