[Rental Bicycles] Hime-chari
Transportation Information
[Rental Bicycles] Hime-chari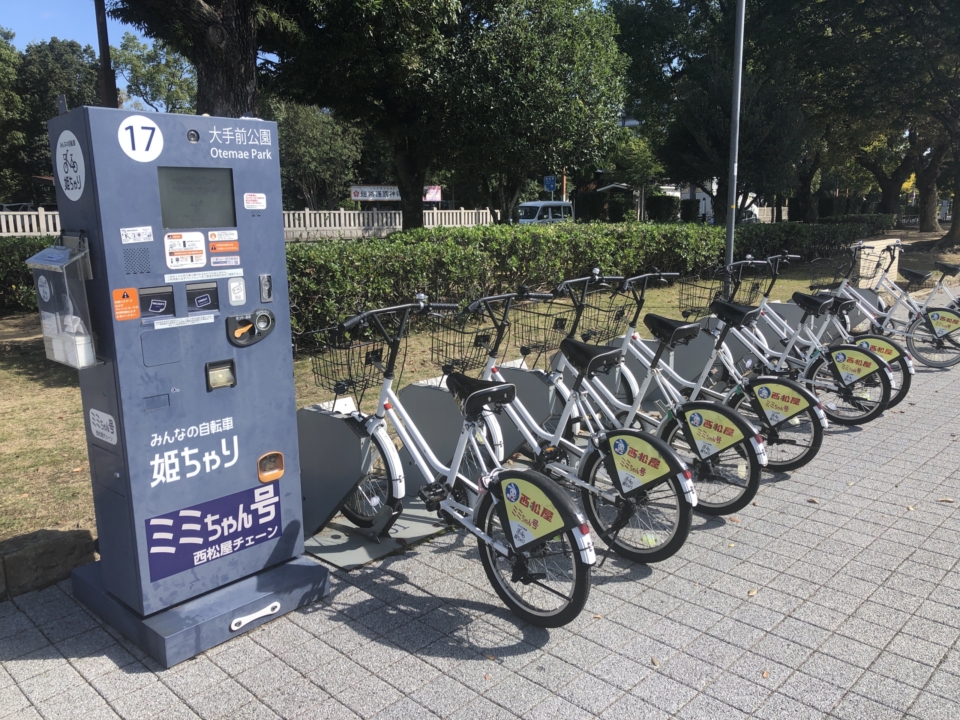 Hime-chari is a bicycle share service with rental stations at Himeji Station and around Himeji Castle, from which visitors can easily rent and return bicycles!
You can save money if you start by paying 100 yen and ride once for up to 60 minutes, changing bikes at cycle stations. Try using it for sightseeing!
[How to register and use the bikes]
When renting
1. Select a lanugage (English, Chinese, Simplified Chinese, or Korean).
2. Follow the instructions on the screen to confirm the terms of use and select the rental period and number of bicycles to be rented.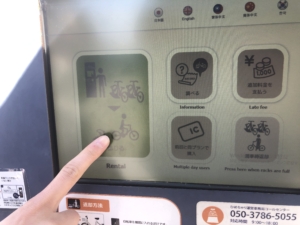 3. Choose a password for unlocking your bike
*"IC Card" will appear as an option on the screen, but if you are not a resident of Japan, please be sure to select a password.
*If you are renting multiple bicycles and select "IC Card," please note that you will be asked for the same number of IC cards as the number of bicycles you're renting.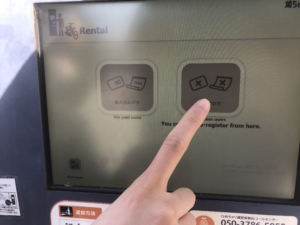 4. Choose credit card as your payment method
*Cash payment will appear as an option on the screen, but cash payments require a Japanese phone number, so if you are not a resident of Japan, please select payment by credit card.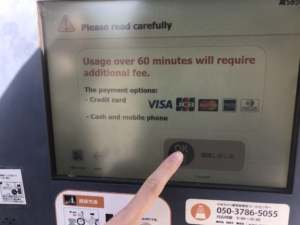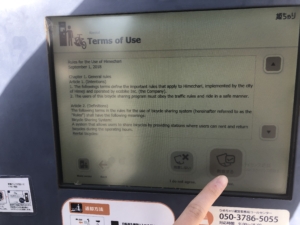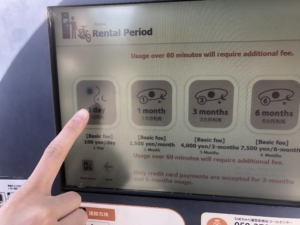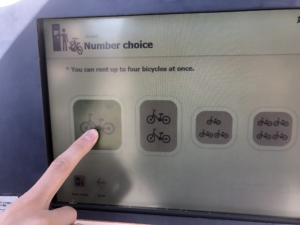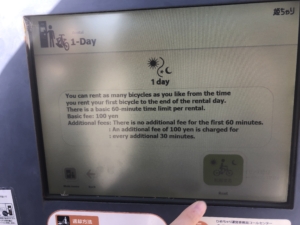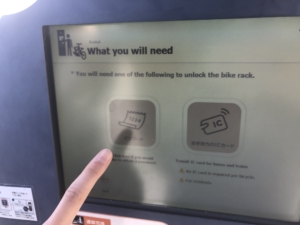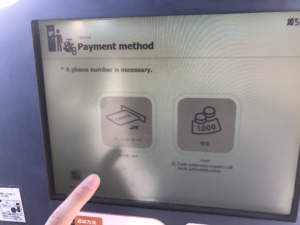 5. Please enter the 10-digit telephone number of the hotel where you're staying (ex: 079 222 2285).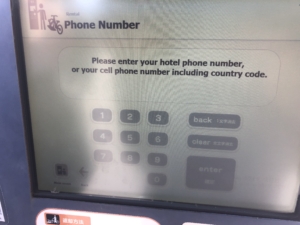 6. Enter your name.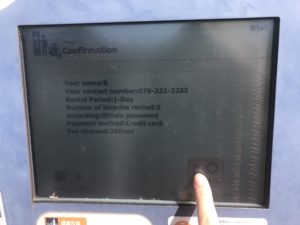 7. Press the final confirmation button, and you'll receive a receipt in Japanese and a piece of paper with your 8-digit password printed on it.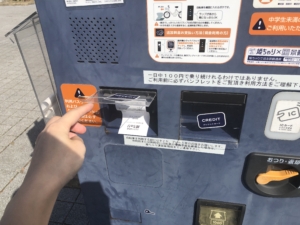 *Please do not lose the password. You will need it the next time you rent a bicycle.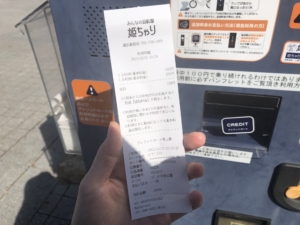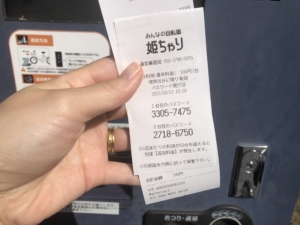 ——This is the end of the registration process. ——-
8. Return to the previous screen and select the option to rent a bicycle now.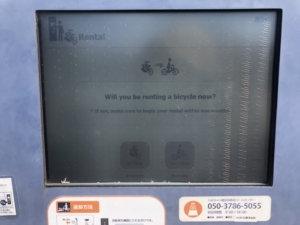 9. Enter your 8-digit password and select the number of the bicycle you're renting.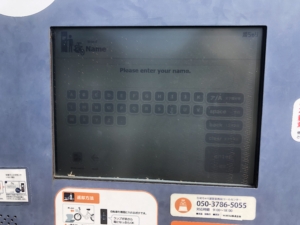 10. When you hear a beeping sound, remove the bicycle from the rack and hop on!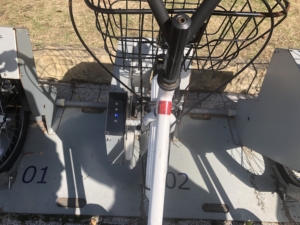 [How to return bikes]
Place your bicycle in the rack at the cycle station. Wait until the light turns from red to blue. *If no rack is available, select the option on the screen to return the bicycle when the rack is full, follow the instructions, and then lock the bicycle and place the key in the key box.
[Cycle Stations]
・There are about 20 stations in locations including Himeji Station area, in front of Himeji Castle, Otemae-dori Street, history and art museums, the Himeji City Museum of Literature, etc.
[Fees] 100 yen per day (basic fee)
Within the usage time period, the first 60 minutes cost 0 yen, no matter how many times you borrow a Hime-chari bike.
If you use the bicycle for more than 60 minutes, you will be charged 100 yen for every 30 minutes.
[Hours of use]
7:00 a.m. – 8:00 p.m.; return is available 24 hours a day.
*This service is not available during the New Year's holidays (December 30th – January 3rd).
Himechari Office
Himepura Building 3rd Floor, 448-8 Hojo, Himeji, Hyogo 670-0947
+81-50-3786-5055
http://interstreet.jp/himeji/
*Himechari Office (TEL: +81-50-3786-5055) business hours are from 9:00 a.m. to 6:00 p.m.