Himeji Yukata Festival will be held this weekend ! (6/24-6/25)
2023.06.23.Fri
Himeji Yukata Festival will be held this weekend ! (6/24-6/25)
 https://visit-himeji.com/en/events/himeji-yukata-festival/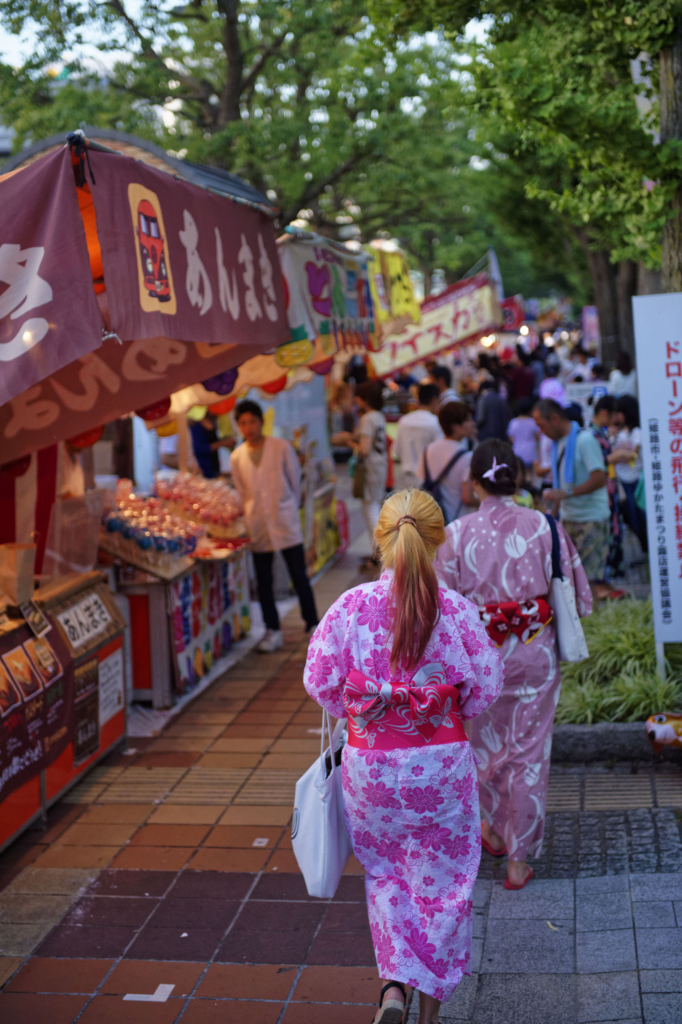 For the first time in four years, the Himeji Yukata Festival will be held for two days from June 24th (Saturday) to June 25th (Sunday), announcing the arrival of summer. There are events such as the annual children's yukata parade and the "Regional Fureai Stage" at Jonan Park!
■■■■■■■■■■■■■■■■■■■■■■■■■■■■■■■■■■■■■■■■■■■■■■■■■■■■■■■
Date :From Saturday, June 24, 2023 to Sunday, June 25
Time:from 4:30 p.m. to 9:30 p.m.
Venue:Osakabe Shrine( https://goo.gl/maps/6WHQPRRctQkvwCoD9)
around Jonan Park (https://goo.gl/maps/Wz43N1D2RRYpXqLLA)
Shopping Street( https://goo.gl/maps/og2PXd2PbokADYfN8)
■■■■■■■■■■■■■■■■■■■■■■■■■■■■■■■■■■■■■■■■■■■■■■■■■■■■■■■
Event information details:
Regional Fureai Stage in Jonan Park (Sponsored by: Yukata Festival Supporters Venue: Jonan Park)
24th from 4:30pm to 8:30pm
25th from 4:30pm to 8:30pm
Nanchu Soran and taiko drum performance, Yosakoi dance, dance, etc.
Shopping street event (Organizer: Nishinikaimachi shopping district promotion association Venue: Nishinikaimachi shopping district)
5:00pm – 9:30pm
Sale of goldfish scooping, draft beer, snacks, etc.
 Shops in Shopping Streets (Osakabe Shrine, around Jonan Park, Nishinikaimachi Shopping Street)
Omotenashi(sales of food and drink, etc.)
Street stalls (sponsored by Himeji Yukata Festival Stall Management Council)
4:30pm – 9:30pm
Location: Around Osaakabe Shrine/Jonan Park, Nishi Nikaimachi Shopping Street, Otemae Street (west side)
Opened 124 stores through public offering (planned)
Special benefits for those who wear yukata during the festival period!
・Shinki bus fare half price
(Departing from and arriving at Himeji Station) *Excluding some routes such as late-night buses and highway buses
・Movie viewing fee 1,200 yen Regular version only
*Additional charge required for 3D, not applicable for 4DX
Earth Cinemas Himeji
・Free admission to facilities around the castle
(Himeji Castle, Kokoen Garden, Zoo, Art Museum, Himeji Museum of Literature, Prefectural Museum of History)
*The museum, Himeji Literature Museum, and the Prefectural Museum of History have only permanent exhibitions.
・Shosha Ropeway round-trip ticket 20% off
Promotional campaigns at each shopping district
(discounts, novelty distribution, etc.)
Back to list